(800) 272-0707 support@lambers.com
Get Your Free Test Prep Now!
Lambers Review
Lambers Review is a worldwide leader in the test preparation market, offering review for the Certified Public Accountant (CPA), Certified in Management Accountant (CMA), Certified Internal Auditor (CIA), and Enrolled Agent (EA) Exams. Since Lambers opened in Boston in 1966, over 200,000 accounting professionals have used Lambers to study and pass their exams. Many of the world's largest organizations have used Lambers materials in their training programs. There is a great deal of history behind Lambers Review, but one idea has always remained, and that is giving the exam candidate a high quality, affordable review that will prepare them to pass!
The CMA Exam
Now is the time to become a Certified Management Accountant (CMA). Studies show that CMA's earn 29% more salary than non-CMA's in similar positions. Not only can you earn more salary, but by passing the CMA Exam you can demonstrate a high level of expertise in a broad range of topics. This expertise will surely help in the success of any organization, and give you a competitive advantage in the difficult marketplace for jobs.

The CMA Exam is made up of two parts:

Part 1: Financial Planning - Performance and Control
Part 2: Financial Decision Making
Lambers Review offers adaptive test prep software, electronic flash cards, and expert support for the CMA exam all available to purchase on our site.

With this special offer you will receive a full working version of our adaptive test engine with a limited database of questions for both parts 1 and 2 of the CMA exam... FREE! This is a great way to view the quality of our content before you purchase and unlock the full database of questions

Simply fill out the form and click "Submit Information". You will receive an email with instructions to download your free practice test software.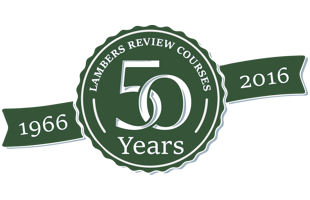 The Accounting industry's best courses for nearly 50 years!
CPA Review
Online Video Courses, Test Prep software, Audio, Books, and Flash Cards
EA Review
Online Video Courses, Test Prep software, Audio, Books, and Flash Cards
CIA Review
Online Video Courses, Test Prep software, Audio, and Flash Cards