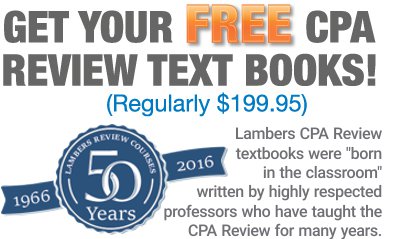 BEC • Auditing • FAR • Regulation
Today's busy "on-the-go" CPA Candidate requires CPA Review materials that are convenient, thorough and portable. The Lambers CPA Review E-book set is all of these and more.
Study the Lambers E-book set on your iPAD, Kindle, or any other device that can display PDF form electronic text. Read a chapter while exercising, practice simulations or multiple choice questions while on the train, or review text while sitting on the beach. The Lambers textbooks will be at your fingertips in this E-book format!
The Lambers textbooks were essentially "born in the classroom" and are written by professors who have taught CPA Review for many years. The Lambers authors have a keen understanding of how to explain difficult concepts and have the student remember them. Each chapter in the Lambers textbook has lessons with case illustrations and examples, practice questions and simulations, and explanations for right and wrong answers. You will have over 2,400 questions and problems to practice in order to prepare you for the exam. The Lambers texts contain all the relevant topics for the CPA Exam, including the recently released International (IFRS) standards. The Lambers textbooks have helped over 200,000 candidates pass the CPA Exam since 1966, make the Lambers E-book set a part of your success!
By downloading this free product you are agreeing to future email correspondence from Lambers, Inc.
Copyright © 2005 - 2023 Lambers, Inc.