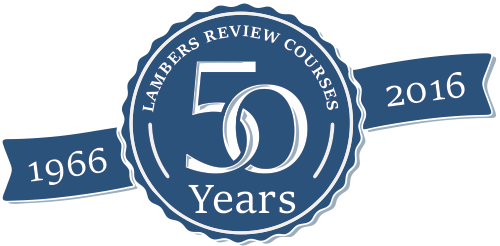 Lambers Review Courses will be celebrating it's 50th year in business in July of 2016! Founder Vincent Lambers taught the first Lambers CPA Review class to a class of six students in downtown Boston during the summer of 1966. The course featured live instruction with Professor Lambers teaching the entire course by himself. With a combination of live instruction and eventually its own set of textbooks the course quickly became the number one course in the New England Region.
Since that first course in 1966 Lambers has evolved into a household name in the accounting certification world. In addition to CPA Review Lambers offers review courses for Enrolled Agent (EA), Certified Internal Auditor (CIA) and Certified in Management Accounting (CMA). Lambers also offers a wide variety of Continuing Education courses for holders of the CPA, EA and AFSC designations. Courses are now offered online, something never conceived of back in 1966!
Lambers Review Courses would never have reached the 50 year milestone without a dedicated set of instructors, staff and authors. Hundreds of thousands of successful students can attest to the Lambers style of teaching which focuses on lecture, examples and illustrations. This time- proven method of instruction was evident in our courses in 1966 and is evident in our courses today. We owe a sincere thank you to our customers whom without their success we would not be celebrating our 50th year in business. Your success is our success!