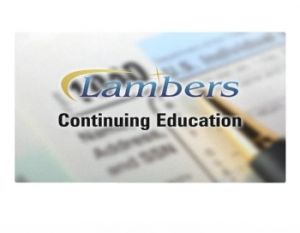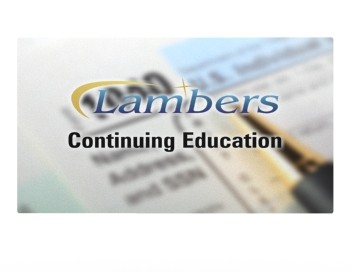 Lambers, Inc. is proud to announce the addition of two new continuing education courses to it already growing library. These courses are each eligible for both IRS Continuing Education and CPE. These courses are taught by Professor Arthur Reed, MBA, CPA, MST. Professor Reed is nationally known as a top presenter of Tax Topics and is also a full time professor at Bentley University. The new courses are as follows:
The Top Ten Tips to Avoid Preparer Penalties: 3 Credit Hours
Preparer Penalties have been on the rise and in a recent statistical release the IRS has been abating nearly 40% of all the penalties assessed. In this course, you will be reviewing the various Preparer Penalties and learning the role the IRS agents play in determining whether you will be assessed a penalty. You will also review the abatement process and the necessary Form and documentation required to have the penalty abated.
The Top Ten Tips to Help Your Clients Avoid Penalties: 4 Credit Hours
In 1955 there were only 14 penalties and today there are over 170. Penalties have shifted from being a technique to encourage voluntary compliance to a revenue raiser for the government. This course will review the penalties assessed taxpayers, especially the automatic penalties, and show you steps to avoid them as well as to have them abated. Last year alone, nearly 40% of all penalties assessed were abated.
Lambers adds courses to its library every quarter, please check back often for announcements of new/updated courses.