Lambers CPE Video Sample Clip
The Lambers All Access Premium Continuing Education Library offers unlimited access to our entire library of video, .PDF and live webinar courses for CPA's, CMA's, EA's and AFSP's.
Subscribers can view as many courses as they like and qualify for as much credit as they need for the extent of their subscription. There are hundreds of courses available and the Library also includes most CPA individual State Ethics courses.
Lamber's state of the art courseware is engaging, dynamic and will keep you interested from start to finish. Your instructors make the many diverse topics covered easy to understand.
Benefits:
Unlimited access to hundreds of .pdf and video courses
Unlimited access to live Webinars* (No final Exam Required
Individual State Ethics courses included
Industry leading instructors
Up to date content including dozens of hours on new Tax Cuts and Job Acts
December 2019 Tax law updates and extensions included
Several Tax Representation/Tax Resolution courses
Wide range of NASBA approved categories
Yellow Book courses to meet GAO Government Auditing Standards Included
Great reference tool during tax season
Fast modern interface designed for how you study
Get a full year of unlimited online
Continuing Education for one low price!
The Lambers All Access Premium Continuing Education Library offer hundreds of courses to meet you AFSP, EA, CTEC, CPA and CMA needs.
Highlights include: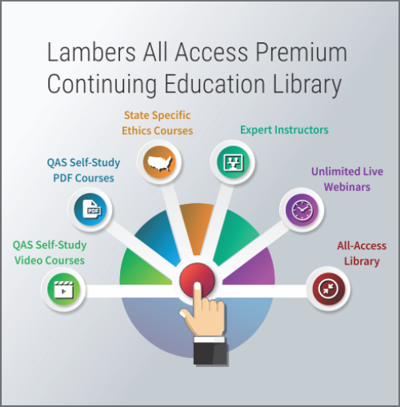 24/7 Access to the Lambers Continuing Education Catalog for one full year
Online Video/.PDF Courses offering well-constructed lessons on relevant topics
Unlimited Live Webinars (No exam required) Click here for current webinar schedule
Store and Print your certificate of completion for all NASBA CPE courses
Lambers submits all IRS CE credits earned for you
Lambers adds new courses to the CPE Course Catalog every month and updates the content regularly to stay current with relevant topics.
Buy your one year subscription now for only $499.95*!
(Regular price: $699.95. Act now, offer ends soon!)
⬆ Wrong URL
The Lambers All Access Premium Continuing Education Library contains

ALL

of the courses from the Lambers CE and CPE libraries. For more information on the individual courses click the buttons below.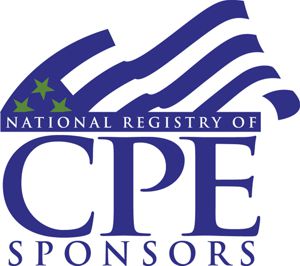 Jennifer C.
[Lambers has] completely revised my thinking about what my continuing education experience has to be going forward.