2022 All Access Webinar CE Library
2022 All Access Webinar CE Library
$249.00
The Lambers All-Access Webinar CE library offers users unlimited access to our entire schedule of live webinars. All courses are IRS Approved and provide flexibility in your learning. Webinars run on a published schedule and must be individually registered and attended. Course CE hours are based off webinar live attendance and participation with the live polling questions.
As such, partial credit is available, and the hours listed are the MAXIMUM hours that will be allocated based on the completion of the entire course. Course certificates will be generated within 72 hours of the course and made available on the "training.lambers.com" website.  Once completed, Lambers will send the earned hours and your collected PTIN to the IRS on your behalf.
Please note that Lambers webinars are scheduled quarterly. The calendar is current for courses through June 30, 2019. Q3 courses should be added to the calendar soon.
See our full CE Live Webinar calendar HERE.
Volume Pricing:
Call today 1-800-272-0707 for our Small Business and Corporate Multiple User Discounts.
Related Products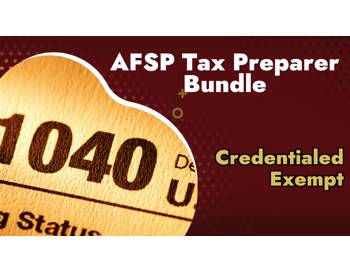 2024 AFSP Tax Preparer Bundle (Credentialed/Exempt)